We headed out from Auckland on Sunday morning for a long flight to Hong Kong. Most people probably think that overnight flights are bad enough, but whats even worse is sitting for 11 hours on a flight in the middle of the day, unable to escape into sleep for any long period of time. This basically sums up our Hong Kong flight. I was awake for all but 15 minutes. I don't know what I would have done if not for the personal movie screen in front of my seat.
When we arrived in the Hong Kong airport, I was very hungry. Zach and I sat down for the most delicious Chinese food I think I have ever had. I couldn't believe that what we were eating was still airport food. We then rushed off to find our gate, and ended up getting lost. Fortunately, our flight to Hanoi was delayed. Otherwise we would have definitely missed our flight.
On the flight to Hanoi I realized how much I was going to love Vietnam. I sat next to this tiny little guy, who was actually probably about my age or slightly older. He didn't speak any English, and clearly my Vietnamese is sub-par, but somehow we ended up having a conversation for almost the entire plane ride. By the end of the flight we were showing each other pictures of our families, shared headphones when he wanted to show me Vietnamese music videos on his phone, and even took a few selfies. I had made my first friend before even landing in Vietnam. Things were starting out well.
We landed in Hanoi and proceeded through customs, which turned out to be much easier than we expected. I guess the work that our coordinating organization, The Prosthetics Outreach Foundation (POF), had put in getting us our visas in advance had paid off. We retrieved our baggage and headed out to the airport lobby where we were met by Thanh (pronounced Tine), an employee at POF and Viet, the POF driver. After loading our bags into the car, Thanh and Viet drove us to get SIM cards for our phones and to our hotel. Zach and I were so thankful that they met us at the airport and had arranged our accommodations. We headed to bed early to catch up on some much needed rest.
In the morning we decided to head out and explore Hanoi. Zach and I walked for at least two hours, weaving through markets, trying to just get a feel for the city and for the culture. Unintentionally, we ended up on the street with all of the vendors selling dog, which, lets just say, wasn't a pet store and was more geared toward culinary ventures.
We ended up getting lost after I was insistent that I could find our way back to our hotel. However, I was wrong. Fortunately, we had the business card for our hotel which had a tiny map on the back. We went from shop to shop pointing at the spot on the map where our hotel was, and having people guide us in the general right direction. It was actually pretty fun, and was also reassuring to see how eager people were to help us get back on track. It definitely made us feel welcome and safe.
When we finally got back to our hotel, we were greeted by a few women who wanted to sell us pineapples. Zach and I attempted to decline, but then one woman jumped forward, put her straw hat on me, and gave me her yoke-like device for carrying fruit. When she said, "take picture!" Zach proceeded to take snap some shots of me dressed as a Vietnamese street vendor with other vendors joining in for the fun. In the end, we bought the pineapple.
Thanh and Viet picked us up soon after to go see the POF office and meet the legendary Rose. Rose coordinates the clubfoot program in Vietnam and is the one person who has been absolutely invaluable in getting us here. Immediately it was apparent that Rose is a force to be reckoned with. She is a stick of dynamite. There is almost no way that Rose is above 5 feet tall, but by the end of the meeting, lets just say that Zach and I were just glad that she was in our corner. Our meeting with her went incredibly well, and it was very clear that she not only wants to make sure we get to film everything we need, but that we also have a good time in Vietnam. We really are so glad to have a person like her on our team and so grateful for all that she has done.
In the late afternoon and evening, Zach and I decided to try out some real Vietnamese dishes. For lunch we ate noodle dishes and for dinner we ate pho at a place Rose recommended. For those of you less versed in Vietnamese cuisine, pho is a brothy soup with fresh spices and usually a meat. You also add other ingredients to your taste, like hot peppers and lime. While slurping up some noodles from his soup, Zach accidentally inhaled a pot pepper. He was in a good amount of pain until he could grab a soda from the fridge.
On our way back from dinner Zach and I ended up stopping to take some photos of the traffic. Traffic in Hanoi is pretty miraculous. We watched thousands of motor bikes go by. The traffic is certainly intense, but there is also something peaceful about it. The motor bikes have a natural ebb and flow, and despite it all looking disorganized at first glance, the traffic is pretty coordinated.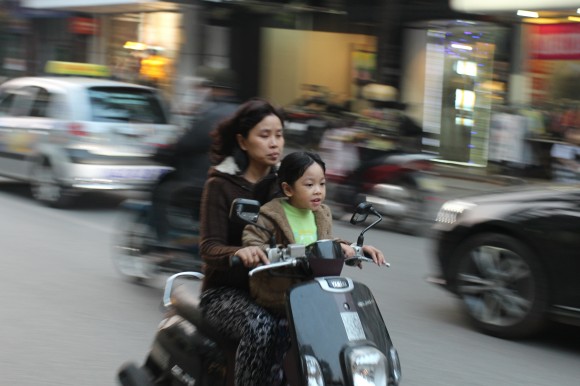 Overall, we had such a fantastic first day in Vietnam. It really couldn't have been any better. Both of us can already tell that we are going to love it here, and I think we both already do.
-Hannah