When we got back to Hanoi, everyone in our little envoy needed to catch up on some work we had all put off during our exciting adventures in Sơn La. So, on Saturday, we went in our own directions, accomplishing some of the more mundane tasks on our list. Zach and I spent a good portion of the day backing up our data, sorting through videos and pictures, and doing some much-needed laundry. We were able to get out of the hotel for dinner, where Zach, Jana, and I randomly chose our meals from the Vietnamese menu by simply picking interesting-sounding names. I ended up with a chicken dish, Jana ended up with noodles, and Zach's dish turned out to be stir fried ox penis. He said it was tasty, if not a bit chewy, and I was horrified. That's all I can really say about that. After dinner, Zach, Jana, and I all opted for a quick foot massage. Zach's feet were recovering from all of the hiking we had been doing, so Jana and I decided to join in on the experience. The massage itself was not very relaxing – crossing over into painful at times. I don't think Zach felt like the massage did his feet any good.
On Sunday morning the group met us at our hotel. We had one addition to our group: Louis, Rose's 26-year-old son. We could tell that he takes after his mom with his big personality, although he is noticeably taller than his mother.
Rose had decided that we should spend the day sightseeing on our way to Thanh Hóa, the next province we were going to investigate. It was nice to spend the day bonding with the other members of our group without the stress of filming and interviewing.
Our first stop was Ninh Bình, an ancient capital of Vietnam. People still live in this town, but it is filled with tons of archaic gardens and pagodas. We walked around the town for an hour or so, walking into the pagodas, which were intricately designed with gold statues of Buddha and other deities. Offerings of choco-pies and cans of Coca Cola indicated that the pagodas were still actively used by many Vietnamese. Tung told us that the offerings are used to feed the monks and the local poor. I hope they all like junk food!
After touring through Ninh Bình, we stopped for lunch where Zach got to further explore his adventurous palate. We sat down for a meal of goat, a meat Zach has long enjoyed. But what he wasn't expecting was the dish that our Vietnamese counterparts had ordered for him: coagulated goats blood. Rose handed him a small bowl of the red Jello-like substance and said, "This is for you!" I watched his face as he took a bite. It seemed that, finally, Zach's culinary limits had been pushed. I think that the combination of the blood jelly with diced pieces of goat liver and intestine was just too much. However, what he hadn't realized is that Rose had ordered the whole bowl for him. He struggled to finish the bowl, bite-by-bite, and called it quits once he'd eaten a little over half. I was pretty impressed by his attempt.
After lunch we stopped at Trang An, where all of us (minus Rose and our van driver) piled onto row boats and were paddled by local women around tall mountains and through a series of caves. The landscape here in Vietnam is unlike anything I've ever seen before. There's no gradual transition from flat farmland to rolling hills or mountains like we have in the States. Steep, rocky, mountains simply jut out of flat land and water.
The boat ride lasted for about three hours. We drifted through clear water sprinkled with pink lotus flowers, passing even more pagodas. Before entering a few caves, we went inside the pagodas to pay respect to important Vietnamese notables and some Buddhist figures. The whole experience was very tranquil and calming. When the row-boat returned to the dock, we said goodbye to our dedicated guide, who only does two tours per month (due to the high number of guides vying for tourism jobs) and makes about $5 per tour. We made sure to tip her well.
We got back into the car and drove to Thanh Hóa. The next morning, after enjoying an all you can eat breakfast, where Zach was thrilled to find pork ribs, steamed buns, and a variety of rice based dishes (I chose a simpler breakfast of tangerines and sticky rice), all eight of us piled back into the van to meet our first clubfoot patient of the day.
We drove to a kindergarten where we met the grandmother of a three-year-old boy with clubfoot. It was nap time at the school so, unfortunately, we didn't get to play with all of the children. The upside, though, was that we were able to get a quiet interview with the grandmother. She really opened up to us, explaining that she was raising her grandson because his parents had to find jobs in larger cities – quite far away – to pay for the cost of transportation for his clubfoot treatment. Because of their work away, the little boy only gets to see his mother once a month – and his father even less. Zach and I were awed by the sacrifices these parents were making just so their child could live a more full and active life.
In the afternoon we drove to our second clubfoot patient, an eighteen-month-old boy who was also being raised by his two grandmothers. We sat down with the family and listened to them tell the story of their grandchild's birth. All of his relatives crowded around him, coddling him, not withholding any expression of their love for him.
During the interview with the grandmothers, we learned that this boy's parents also had to leave to find work in order to have enough money to pay for transportation. The little boy had suffered from a variety of different health problems since birth, causing him to spend a lot of time in the hospital. Fortunately, the healthcare itself was free, but the cost of transportation was further exacerbated by the number of health issues he faces. The grandmothers said that if not for the clubfoot, the financial burden on the family for the child's other health problems would be much more manageable.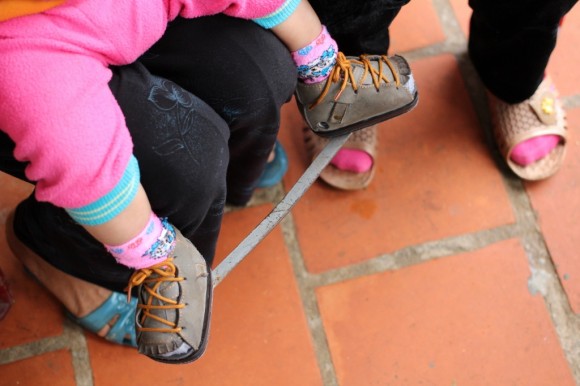 There was an unrelentless drizzle all day long. We had accumulated a couple of more people in our van over the course of the day. I think a couple were from the local clinic. We started driving on the unpaved road out of the village, and then we came to a sudden stop. Our wheels kept spinning, but we didn't move an inch. We were stuck in the mud. Zach and the rest of the males jumped out to push our fifteen-seater van. I stayed off to the side, catching it all on camera, including the exact moment when Zach's feet lost traction and he flew face-first into a muddy puddle. After about ten minutes of pushing and being a source of entertainment for our local onlookers, we were finally able to make it to more solid ground.
The next morning we drove to the Thanh Hóa Children's hospital where we met the local orthopedic pediatrician. He's the Ponseti practitioner, and (as he reported to us) has had some of the greatest success in treating clubfoot out of any other province in Vietnam. He led us into the casting room where we met a one-month-old baby girl who was getting her second cast. Her mother unwrapped her from the bundle of blankets and the original casts were immediately removed. We could already see the progress she had made. Just after her first casting, her tiny feet, barely as long as the technician's fingers, were already very straight. We filmed as her feet were quickly covered again with layers of gauze and plaster.
Rose told us that the family lived on a boat and asked us where we wanted to interview them. Of course we told her "on the boat." After interviewing the doctor about clubfoot in Thanh Hóa, we got back into the van and brought the family to the river on which they lived. We were met by a small makeshift ferry which took us to the family's modest house boat. On the inside of the family's boat there was a sleeping space and a sitting area. I say 'sitting' because the ceilings were about 4 feet from the floor, so not even the tiny parents could fully stand up. As we started to set up our equipment, our source of light coming from the window started to disappear. Considering that it was barely noon, it wasn't because the sun was setting. We looked over to the window only to find that we'd accumulated an audience of a variety of community members ranging from little kids the elderly women, all peering through the open window. One of the older women started playing with Zach's hair through the window. I guess she had never seen hair like his before.
It's always hard having so many onlookers. We know we are disrupting many peoples' daily routine and we don't want to prevent anyone from exploring their own curiosity. However, we do ask some sensitive questions about community stigma, and we want the parents to feel comfortable answering those questions. Additionally, it's quite distracting for everyone involved when they feel like they've been put on display. Usually, we end up telling people we need our privacy, but some people cannot resist the urge to stay and watch.
When our interview was over, another boat took us back to shore. There was a little girl on deck with whom Jana and I had fallen in love. She was so trusting, sitting in our laps, playing with us, and attacking us with hugs. When kids want to play with us, it gives us a quick break from our otherwise crazy day.
Little did we know that, after lunch, Zach was going to get his chance for a little baby therapy. He's usually setting up equipment or interviewing parents while I get a chance to get to play with the children. But since I know Zach pretty well, I knew that he needed his baby time. When we pulled over to pick up a clubfoot mother and her nine-month-old baby girl, who was being passed around the bus, I made sure Zach got his chance.  Immediately, the little girl laid her head on his chest and fell asleep for the rest of the bus ride. I saw Zach melt. Literally melt. His whole body sunk into the seat trying to make sure his new little buddy didn't wake up with all of pot holes and bumps in the road. She slept with her tiny hand holding his large finger, squeezing it in her sleep every time the van bounced up and down along the road.
My heart similarly melted when we arrived at our destination about 45 minutes later. We came to a house with two twin girls, about the same age as Zach's napping buddy, both with clubfoot. When we came into the house, both babies were sleeping in hammocks in their shoe braces. The family woke them up, and all three babies put on new, larger braces that we had delivered to them. It was officially a clubfoot party. So many community members came to be involved in what was going on. You could really tell that they lived among love and support. Young girls and old women came and kissed all of the babies. It truly felt like a joyous occasion.
Just in case it hasn't been clear so far, at this point we have two different clubfoot families. One family was the mother and daughter we picked up on the way, and the other was the set of twins with both parents. We sat all three parents in a row with their children (wearing their new braces) and attempted to interview them. Not only was there a lot of baby cooing and crying, but we had to compete with a government loudspeaker that announces the news every evening. Furthermore, we were running out of light, this time because the sun was actually setting. But Zach and I pushed on. Zach was ingenuitive and had the idea of shining a motorbike light onto the family as a source of more light, and we kindly asked the whoever was on the other end of the loudspeaker to please postpone his loud speaking.
It was a great interview. The two families had met because their children started treatment at the same time, so they had all of the same appointments, and carpooled to the hospital to save money. We could tell that having each other to share the treatment journey really allowed each family to sustain the emotional support that continuous treatment requires – even when it's difficult. They seemed a little more hopeful about their childrens' futures and also seemed more articulate: they were used to sharing their concerns with each other. We finished up our interview as fast, but as thoroughly as we could. And just like that, all the lights went out and it was completely dark. The power had been cut just in the nick of time.
-Hannah