While the people of Vietnam value privacy and are moderately socially conservative, there's no stopping them from crowding around when something (anything, really) is going on. Everything is based on the community – so when two white people show up with cameras and backpacks we receive quite the greeting. And that's how our Wednesday morning kicked off.
On our way to Vinh, our next destination, we stopped at a patient's home to say hello and to interview his young mother. We were welcomed by at least fifteen people ranging from children the village elders. As we began our interview, we respectfully asked for privacy (for the sake of the family and the personal nature of our interview), as we have throughout our trip. Tung spoke with the crowd and translated their response, "They say that they would like to do that, but they are too curious and cannot leave." Well, at least they were honest.
We began anyway, speaking to the mother about her child's clubfoot experience and even ranging into topics of malnourishment and nutritional deficiency – an ailment from which her child suffers. She spoke to us about the large cost in transportation to and from the clinics, and she spoke at length about the economic strain on the family. It's tough to know if her answers about community support (mostly glowing praise) were genuine or simply influenced by the fact that the whole community was gathered in her front yard, watching intently.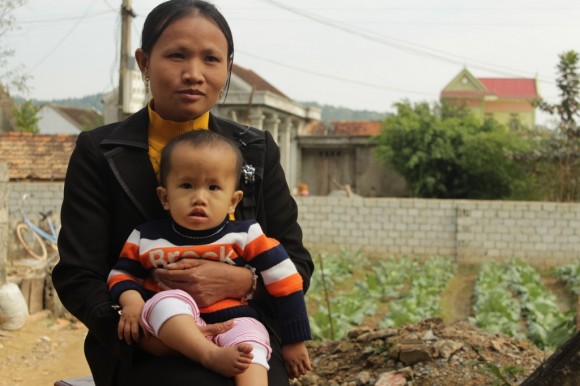 We took photos with practically everyone in the village (and Jana found herself being hoisted into the air by a local woman – no context necessary), including an eager old man who wouldn't take no for an answer. His face was weathered and he wore a blazer with a colorful beanie (leading Hannah to privately nickname him 'Dopey' from Snow White and the Seven Dwarves). He reeked of booze and I think he shook my hand at least nine times, practically begging us to snap even more photos of him. He hounded us up until the moment we stepped back onto the bus.
Before we could grab our lunch of buffalo and squid, we made a quick stop at a community clinic, where we turned off the cameras and enjoyed a private interview with a clinician who has delivered nearly three children a week for the last year. Behind where we sat was a chart with stickers covering a grid. Each sticker represented a delivery within the community – and the community has been busy! We were grateful to explore the small facility and see a clinic that acts as a bridge between rural patients and larger district hospitals.
Next up was an interview that we won't forget. We spoke to a defiant father and his adorably energetic son. The father, a gruff man with a crackly voice and a deadly raw stare, talked to me about the most painful moment he experienced as the father of a son with clubfoot. "The most difficult moment for me," he said, "was sitting up late at night and watching my son try and stand up. But he couldn't stand up. He tried so hard, but his legs were too weak. He just fell over and cried. And I cried too. It was the saddest moment of my life."
As the interview had gone from interesting to extremely valuable and personal, I continued my conversation with the father long into the afternoon. Meanwhile, Hannah found (yet again) that children are drawn to video cameras like ants to a picnic. After a few minutes into the interview (which had originally included the four-year-old son), Hannah realized the boy just wasn't into it. Thinking quickly, she used our expensive camera gear as literal bait and lured the boy and his neighborhood buddy into filming a series of short videos around the house while I spoke with dad. The videos, which share a similar series of events (giggling, silliness, and two boys racing back to the camera for instant review and more giggling), are adorable and will definitely have to make their way online at some point. If you need proof that two little boys, given the introduction of a video camera, will begin slapping each other for fun – Hannah has plenty of evidence.
Dinner, as always, was unique and flavorful. Eel soup in Vinh was enjoyed as Hannah probed Tung and Louis about which animals the Vietnamese people won't eat. Spoiler alert: there aren't many. At this point, we've confirmed that elephant and cockroach are not part of the Vietnamese culinary spectrum. But spider, cat, horse, and even bee – well, everyone has different tastes. And the Vietnamese people can't be accused of discriminating between speceise of potential meat.
Bright and early Thursday morning was fairly hectic. We met up with Dr. Binh, a Ponseti physician operating in Vinh Children's Hospital. We visited on clinic day, when a large number of clubfoot patients come in for their weekly or bi-weekly checkups. We found ourselves surrounded: we stood in a small room with parents, grandparents, and seven babies – all with clubfoot and in various stages of Ponseti treatment. Some were in casts, others were in boots and bars, and some had yet to begin any stage of correction. It was truly a full house! We spoke with mothers, watched Dr. Binh perform a casting on a little boy only 40 days old, and we sat down and interviewed the doctor.
After a great interview with Dr. Binh (for which we pushed the limits of scene-setting, taking a good while to frame the shot just so), in which we talked about global awareness and the importance of connecting parents to larger clubfoot communities, we lunched and headed out to our next patient. Dr. Binh accompanied us out to a nice little home on the outskirts of the city. Again battling with random loudspeakers (this time broadcasting a community meeting), we waited until the coast was clear to sit down with a set of parents who gave us great answers but, admittedly, became frustrated with me as I explored hypothetical questions in an attempt to bring out deeper answers. We took a moment to cool the tension and we had a productive conversation. While this was happening, Hannah noticed a small crowd forming behind us. Ordinarily, this is not unusual. But after Dr. Binh left my side and made his way to the gathering, I had to know what was going on!
Word had gotten around that Dr. Binh was visiting a clubfoot patient in the village. Now, at the front steps of our main interview of the afternoon, was another one of Dr. Binh's patients. As I continued to wade carefully through my conversation with the somewhat testy father, Hannah and Dr. Binh filmed and examined a pair of siblings, also his patients and both born clubfoot, just a few yards away. It was incredibly surreal and we headed back to our hotel for an early night in. We passed out the minute we hit the room and slept in the next morning.
Friday was a much-needed free day. After working to organize our mountain of new data, Hannah headed to play with Thanh, Louis, and Tung through a few rounds of tennis. I took the time to read and hang out with our faithful driver, Thang, as we put back a few sandwiches and shot the breeze. Dinner was by the beach, where we entertained ourselves by making light whisps with long camera exposures. We ate whole squid (guts and all) and oysters cooked over an open fire. It was superb.
Saturday was consumed by a whopping eight hours of driving. Most of the smog and fog being absent, we all breathed easier on the drive and it was definitely much more enjoyable than some some of our longer, bumpier drives. Having reached Hue, we dined on pigs' foot soup (complete with gelatinous cubes – much like tofu – of coagulated pigs' blood). I wasn't particularly fond of the blood cubes (mostly for lack of discernable taste) and the feet didn't have quite enough meat for me. But the soup was great and we ate heartily after our day of travel.
I should preface the next section by saying that I don't always wear makeup… but when I do, I look pretty damn good.
Why did Hannah, Jana, Thanh and I end up in full royal costume, complete with makeup and silk robes? Well, after spending Sunday morning touring an ancient fortress in Hue, we took the plunge and ended up dressed as Emperors and Queens. We took a bunch of silly photos and Thanh made sure we got more than enough shots of the scene.  We cooled down on the bus and headed off to Da Nang.
We cooled down on the bus and headed off to Da Nang.
-Zach