Last Friday morning (January 10), Zach and I woke up bright and early to catch a domestic flight to Sunyani.  Sunyani is located in the mid-western part of Ghana and is very close to the Ghana National Clubfoot Program main office.  Our small propeller plane landed safely at the smallest airport to which I've ever been. Soon after, we met Jerry Barnes, the Country Program Coordinator for CURE International.  CURE is a charity that operates out of the US and focuses on disabled children.  However, one of their largest global efforts is increasing the access of clubfoot treatment. They work in multiple countries in Africa alone.  Zach and I were excited to finally learn more about the clubfoot initiative in Ghana.
Jerry and Rose are opposites. While both have extremely big hearts, Jerry is very gentle, soft-spoken, and above all, tall. Although their personalities and stature may differ, I know that both have put their full effort into making sure we get the footage we need for our documentary. We are so grateful.
Jerry brought us to our hotel where we discussed the weeks ahead. We talked logistics, and Jerry gave us some basic details on the Ghana program. There is one aspect of the clubfoot initiative which we haven't seen in any other country so far. Jerry told us that at each clinic, there is at least one counselor who gets to know each and every patient and their families. The counselors are there to give families social support while going through the treatment process. At every appointment, the counselor will sit down with each family individually and encourage them to comply fully with treatment. Being that CURE is a faith based organization, the counselors are often a pastor or a reverend. At home, some might see this as problematic. But in Ghana, where religion and every day life are inseparable and there are probably as many preachers as there are goats, this additional social support definitely doesn't seem to be negative.
After talking with Jerry, the three of us headed to lunch in downtown Sunyani. Sunyani is definitely a very small city. The main downtown has an area of no more than six blocks. With that said, it is densely populated. At some point in time, there were sidewalks. I guess along the way, sidewalk also meant "paved, flat area, perfect for my stand." People sell anything from used sneakers to live chickens right in these stands. Walking through Sunyani, we wove through all of the different vendors to avoid having our toes rolled over by the multitudes of taxis on the street. Jerry led us to a second story restaurant called "Sweet Touch." There, all three of us enjoyed a delicious bowl of groundnut (peanut) soup and omotuo (sticky rice balls). This happens to be one of my very favorite Ghanaian dishes. For me, it is the epitomy of comfort food. It always leaves you incredibly full and sleepy, but not overly stuffed. So its comes to no surprise, that after lunch, Zach and I headed back to the hotel to catch up on some much needed rest.
The next day Zach and I headed back to Sunyani to explore on our own. We walked through the market and up and down the streets. Finally, we decided we were hungry, however we had ended up in a residential area. We walked through the little communities, attracting some attention. We were struggling to find anything remotely resembling a restaurant when I spotted a stand that just said 'Special Rice.' "Perfect," I thought, "just the type of thing we are looking for." Behind the stand, there were some stools and tables underneath a tarp. Zach went to go find us a place to sit, while I attempted to order whatever they were serving. The ladies running the stand spoke almost no English, but after pointing to the rice and a bowl, I successfully got some food for us. We sat down to enjoy our meal of white rice and black eyed peas with some mystery red sauce mixed in. The second we sat down, a gang of children came over. They had spotted Zach's camera from a mile away, and wanted their pictures taken. Immediately, Zach seized the moment, and whipped out his camera. The kids tackled each other, posed with smiles, posed with silly faces, jumped, ran, and climbed. They did whatever they could to make sure they were in at least a few shots. Zach took some great pictures before the ladies at the stand chased the children away.
But nothing could really keep the kids away. After we finished our food, the gang followed us far away from their homes, back to the middle of Sunyani. We were utterly impressed at their determination. We ended up finding an internet cafe (with incredibly slow internet) and walked inside. The kids told us that they would wait outside, but by the time we left, I guess they had finally given up, because they were no where to be seen. After taking a few more shots of the city, Zach and I headed back to our hotel for the evening.
Sunday was a great day. We woke up early, ate breakfast, and then headed out for Fiema – a very special place for people like me, who love primates. Although a very small village, Fiema has a large population of Mona Monkeys as well as Colobus Monkeys. Zach and I took a series of taxis to get to there, and after a couple hours of driving, we were dropped off at an unassuming house. Immediately we were greeted by a man named Joseph who took us into the house (which actually turned out to be the visitor center) while we waited for our guide. Soon, our guide, Isaac, picked us up, and took us to a vendor selling bananas. Then we headed into the forest. It wasn't long until we saw one of our monkey friends. Isaac called the monkeys by making a high pitched kissing sound. Before we knew it, we were surrounded. We walked through the forest, feeding the little Mona monkeys bananas. We even spotted the larger Colobus monkeys high in the trees, however they aren't nearly as social. The town considers the monkeys to be sacred. Isaac told us that in the morning and evening, the monkeys will come into the village and eat with the people. They will take food right from bowls. The village is determined to preserve the monkeys, and even has a special cemetery when someone finds a monkey who has died.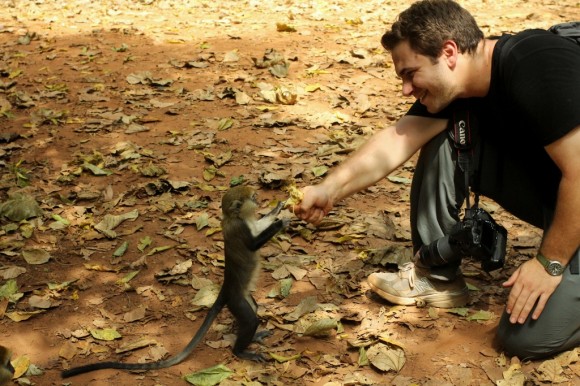 We ran out of bananas very quickly, so we headed back into the village to buy some more. Another group of two Ghanaian women had arrived to see the monkeys, and we were told that they were our only chance of getting back into town, since taxis are very rare in Fiema. Luckily, this gave us more time to spend with the monkeys. So I sat on a tree root on the forest floor while monkeys crowded around me, hoping I would give them some banana. I was in heaven. Zach had a great time getting some "National Geographic" photos while I continued to distribute my remaining bananas. I ran out of food right when the other Ghanaian women finished their tour. We hopped in their car, and rode back to the closest taxi station (still about 30 minutes away). We were so grateful they had showed up, otherwise, who knows? We might still be in Fiema. Of course, I don't think I would complain about that, but it surely would inhibit our ability to make a documentary about clubfoot.
We arrived back in Sunyani late in the afternoon, and shortly after, Oti arrived from Dodowa. He was to be our translator for that week, and we were so glad to have him. Because of Oti's research work, he often has to translate from Twi to English. I knew he would be a great person to have on our trip for this purpose alone, but of course I was excited to spend time with my buddy. We all ate dinner together that night, and went to bed early. Monday morning marked our first day of filming, and Zach and I wanted to make sure we were organized and rested before heading out.
-Hannah