Our week in Sunyani began with a day of filming that touched and inspired both Hannah and myself. We began by heading about forty minutes from Sunyani to Techiman, where we arrived at the Holy Family Hospital and sat briefly with administrators, who, after a quick prayer over our project and a bit of an explanation of our mission, graciously offered us transportation for the day to take us into the more remote areas in which we'd be shooting.
Seeing that our vehicle for the day was a pickup truck, Oti and I wasted no time in heading for the back and propping my camera up against the bag. We'd continue to joke around and take shaky photos down the bumpy road until we arrived at the home of our first host.
Beatrice and George, who welcomed us into their home, were the subjects of our first interview in Ghana. To add to the pressure, we had an audience of administrators, our driver, and a counselor watching over our shoulders. The interview was surprisingly smooth, though, and it was clear that the couple cared deeply about their child and made a point to visit the clinic together, while most patients have only their mother in attendance. "If we're raising this child together," George explained, "then we will treat our child's condition together. It is one of my duties as a new father."
After a cool sachet of water (fresh water is drunk out of plastic cubes, much like small air bags used in domestic shipping), we were back in the pickup truck and headed to an area that was a bit more off-the-grid. We arrived in what felt like a desert (though I've since become more acclimated to the heat), our faces covered in a thin film of dirt and sweat. We lugged our bag out of the back and set up shop.
We were scheduled to meet with the mother of Mubarak, a little boy who was very nervous about our appearance. We've become very used to the look that children often give Hannah and myself. It's a blend of "I don't like this new white-skinned thing in front of me," and "what are you?" Many Ghanaian children haven't seen non-Africans before, and we've found that while older children are delighted by seeing us 'obruni,' or white people, infants and toddlers are usually absolutely stunned – and often terrified.
Mubarak is solidly in the latter camp. He was suspicious of our arrival at his home and gave me a wary look the entire time we were there. Being slightly more tan than I am, Hannah sometimes gets a pass from little kids. I never do. I am perpetually a ghost or a clown from another world, depending on the child. We gave Mubarak a little green bracelet (which he cautiously took) and I made him a little band out of paracord that I fitted to his wrist. He lightened up slightly, but he remained attentive of our every movement, as if to keep an eye on us.
Mubarak's mother, a quiet woman who seemed somewhat similarly cautious about our arrival, told us that she knew of a mother nearby whose child, now grown, might have had untreated clubfoot. As this is the closest we'd come to a case of untreated clubfoot, we tried to hide our excitement and calmly asked if we might have her contact information. We continued preparing for our interview.
Hannah had noticed, though I was unaware, that a child had been dispatched from the house with the mission of finding this mother and escorting her back to our set. She let me know and we shared a moment of nervous laughter: when we actually sat down with a woman whose child had grown up with untreated clubfoot, would we really be able to remember the questions we'd been dying to have answered? Would we be able to keep our composure? How would we tell her, as we have with every other patient, that I was also born with clubfoot? My mind was racing and I began to set up the tripod for our shoot.
In a moment that I will never forget, I used my knife to screw a baseplate onto my camera. As I twisted the blade, I stopped to wipe the pool of sweat that was accumulating in every corner of my face. The heat, sweat, and a dust combination was unbearable. The sun was bright and I could barely see the road that led into the main village. But I saw someone approaching.
At first, I noticed a tall man in traditional Muslim garb. He walked slowly and deliberately. I noticed a severe limp, and, for a split second, thought to look at his feet. I couldn't see much from my distance away and I made a note to myself that I was thinking about clubfoot too much – I seemed to be projecting it onto everyone with a limp!
As he approached, though, I could see, finally, that he walked on the inner and upper part of his foot. It looked as if his foot had been literally flipped over and walked-on like a shoe.
Shaking, I put the tripod down and walked over to Hannah. I don't remember what I said, if anything. I just remember pointing with my eyes and seeing her freeze, just as I had. She looked at me and we were both silent for a moment. After nearly two months of searching for an untreated case of clubfoot, asking every doctor we encountered and practically begging villages to connect us to these individuals (often so marginalized that they've been cast out by the community), this young man was slowly and casually making his way towards our set.
Twenty-three years ago, two boys were born. One was born in Techiman, Ghana. One was born in Charlotte, North Carolina. They shared a common condition: they both had bilateral clubfoot. And they shared a common name: Zachary. On this day, across this hot, dusty plateau, they would meet for the first time.
Razak, or "Zak," is named after his father, Zachariah. He's my age, shares my name, and hobbles over to me and extends his hand. "You are welcome," he says. I am paralyzed.
I sit Razak in an outdoor area with a series of walls without roofing, where we can get adequate light for our shot and maintain a basic level of privacy. I clear the area. Oti readies himself for what will surely be an emotional translation and Jerry sits in the doorway and keeps our atmosphere undisturbed. Hannah and I wire Razak up and begin our interview.
I know it must be difficult to speak on-camera with such a debilitating condition. I thank him for his bravery. He smiles. I ask him if he's in pain. He says no. We talk about his life. I ask about his future. He asks about my feet. I ask him about the differences between his clubfoot and his unafflicted foot. He seems confused.
Razak's mother, to her credit, brought her child to the local clinic the moment she realized her son had a deformity. In both feet. He was fitted with two large metal braces that ran all the way up his leg, near the hip. While the left brace functioned properly, correcting the foot's deformity, the right brace broke. The family couldn't afford a replacement. Razak walks, slowly, with both a corrected and an untreated clubfoot.
He gets angry sometimes, he says, and he sits in his room alone. He sometimes wonders why he is so different. He feels cheated. Every day he is humiliated by his peers. He's dropped out of school. He says that everyone stares, many people ask, and some simply judge.
Other times, though, he feels lucky. He sees people worse off than himself. He can still work: he drives a taxi cab and, despite being given a hard time in earning his license, earns an income that helps support his family. He is a contributing member of society. When people stare, ask, or judge, he tells them that they are looking at God's creation, something special in its own way.
The open wound on his right foot isn't a sore created by irritation as he walks along the road; it's the result of a mishap with a motorbike.
And there we stood, Razak and I leaning against a wall and joking for a few minutes as Mubarak looked on – still quite anxious about my presence. We were a trio that consisted of treatment, surgery, and neglect. I had met someone with my name, my age, my gender, and my condition. And we were so similar, yet so very different. Hannah and I had finally encountered the untreated patient for whom we'd spent so long searching – and he rides a damn motorcycle. The sound of his engines against the wind as he races through clouds of dust – it must be the sound of defiance.
After a day that had rattled us, we ended with a meal of omotuo and ground nut soup – how else? We hitched a ride back to our hotel in the pickup truck and passed out. It had been a long day.
Tuesday morning (Jan. 14) was an early one. We arrived at the Holy Family Hospital in Techiman and set up our equipment: today would be our first time filming a Ghanaian clubfoot clinic. We were greeted by Isaac, a physiotherapist in charge of his department. He guided us into a small room with church-like pews filled with about a dozen parents, all carrying their little clubfoot patients. Every stage of the treatment process seemed to be represented – there were new mothers treating their infants as well as those with toddlers coming in to receive their final pairs of braces.
We set up quickly and began filming as the mothers congregated around us, interested in knowing about my own clubfoot treatment and handing us their children to play with and photograph. When casting began, we gravitated toward a new mother watching her child as he received his first cast. My father once described the casting and cast-removal process as "a series of crying and exhaustion – and that was just your mother!" Sure enough, the new mom had a pretty tough time watching her confused infant squirm and scream as strangers wrapped plaster around both of his feet. Truth be told, children (especially babies) often truly shriek in what appears to be intense agony as they are cast. But, as we've seen, it's mostly confusion and the discomfort of being completely disoriented. The babies are often immediately quieted by seeing us (strange white faces cooing at them) and they just go on babbling happily after that. Both and Hannah and I are convinced that the only true pain experienced in the casting phase is that of older children who begin treatment later than most and have legitimately tighter muscles, more weight to bear on their feet, and more complicated treatment schedules to make up for lost time. For these kids, no cooing from us is going to make that feel any better.
The new mother sat against an operating table adjacent to the casting area where her child screamed and groped the air, arms outstretched, as if to pull into himself any reprieve from his situation. While she couldn't, at first, stand to watch the casting, she slowly made her way to the table. As if by magnetic pull, as soon as she came within arms length of her child, she was in full-blown consolation mode. She held her child's head against hers and sang softly into his ear. She wiped his face, then her own, and it was hard to tell their tears apart. I tried to encourage her, with Oti's translation, but I realized very quickly that words wouldn't do. I leaned against the table next to her and we sat in a stunned silence. It's moments like these when I really feel a deep respect for the parents willing to put their child through what is often a scary situation for everyone involved – all on the hope that it will spare them a life marked by disability.
After we regained our composure, and the new mom whisked her child swiftly out of the clinic for a nap and lots of cuddling, we sat down with Isaac, who told us about his role at the clinic and the value of the counselors. Out of everywhere we've been, we're often asking doctors and patients about the social support that's provided by the healthcare system. While the child's feet will be treated well in each place, we are often met with confusion when we ask what systems are in place to ensure the emotional health and psychological stability of the mother and family. In Ghana, as we found in Vietnam, many people see clubfoot and blame the parents (particularly the mother), the family, or assume that it's a curse or a judgement from an angry deity. Often, husbands in every country we've visited will leave their wives – refusing to acknowledge their child and his or her disability. In Ghana, every clinic provides counselors with the sole mission of keeping a watchful eye on the well-being of the families in treatment for clubfoot. They are all volunteers and only receive slight stipends for transportation costs. They seem to care greatly about the children, their parents and the community as a whole. Many are religious leaders, adding to their effectiveness in an extremely religious society.
On a darker note, though, Isaac spoke to us about one of the most crucial functions of the counselors: preventing abandonment or "disposal" of children believed to be the product of an evil curse or witchcraft. He claimed that in some small villages, the children simply disappear or encounter gruesome deaths (such as starvation or drowning) thinly veiled as accidents. When asked just how many distinct cases in which he's heard of this occurring, he put a confident tally at five. He did stress that this kind of abuse is a tragic, but rare, occurrence. The counselors, he said, are often the 'first responders' to the news that a child has clubfoot: trying to quickly reach the parents and explain that the clubfoot is natural, coincidental (and not karmic retribution), and treatable. In this way, he told us, the clinics are able to save not only the childrens' ability to walk but their lives as well.
After our busy day at the clinic, we headed to an early dinner (as we hadn't yet had lunch) at Sweet Touch – one of the few established restaurants in Sunyani – and reflected on our experience with Jerry and Oti. We headed back to the hotel, where Hannah passed out immediately. Oti and I decided to get some work done downstairs – but not before Hannah sleepily asked that we get back at a reasonable hour "unless they have fresh mango. If they do, bring some back right away." They didn't, but after some time to just hang and enjoy the quiet of the night, we did bring her back some fresh pineapple (which she ate with only her arm and head peeking out from under her comforter). Our next day would require some serious rest.
Wednesday started early, with a clubfoot clinic in the morning at St. John of God Hospital in Duayaw Nkwanta, about twenty-five minutes away from our hotel. We were excited about our primary interview: Dr. Prosper Moh, a clubfoot specialist about whom we've heard nothing but gracious praise from orthopedic surgeons across the globe. His reputation is that of a passionate man out to eradicate clubfoot with his own two hands. We were, however, in for a very different morning. We would have our interview with Dr. Moh, but not before we filmed some casting and bracing. The highlight of this, of course, would be the five year old patient (who began his treatment at a very difficult age) cursing at the technicians as his mother restrained him during the casting process. At one point, though, he cried out and pointed at them all – to which they returned peals of laughter. As it was translated to me, he had accused them all of being traitors and had called them 'human toilets,' describing in detail how he might use said toilets. What was most surprising, though, was the bracing room.
After the patients were given their braces, they had been asked to stay and listen to an educational speech with a white man from the United States. As the white man in quetion, I was not informed of this. When we arrived in the enormous rehabilitation room, we found seated rows of mothers, fathers, children (many in braces or casts), and physicians. In front of these forty-six clubfoot patients and their families, I was asked to sit in a chair as I was introduced for nearly twenty minutes. I would follow two other clubfoot mothers who spoke to the crowd, giving tips and suggestions to the new mothers in the program. As it was explained to me, these groups regularly meet for peer education, but not nearly with this many parents in one session. No pressure, right? Oti sat close by and Hannah set up our wide-angle lens to capture the exchange.
On the fly, I had to come up with something to tell these people – and make their wait worthwile. I described my own experience, joked about my own abilities and inabilities, stressed to them that their children – all receiving the Ponseti method – would be much more mobile than I have been. When I told them that I was jealous of the treatment their children were getting, I was greeted with smiles and bright eyes. I fielded questions, referring medical questions to the physicians in the room, and took off my shoes and socks, jumping and walking around the room at the request of a mother in the crowd. Near the end of my presentation, I was joined by Dr. Moh himself, who used my case to illustrate the progress that's been made in clubfoot treatment since my own experience. There's no question that I was given the best possible treatment offered in my part of the country, but most of the children in this small town in the developing world won't have a fraction of the discomfort I feel due to our shared deformity. Some parents stayed after the presentation to ask questions and get pictures with us, and I hope that the session was as meaningful to the participants as it was for me: I've never had the opportunity to directly address so many people on the topic of my clubfoot experience and I found it to be incredibly therapeutic.
Hannah, Jerry, Oti, and I headed out to a quick lunch before rushing back to the clinic and sitting down with Dr. Moh, who delivered on his reputation of being well-spoken, passionate, and sincere. He spoke with us about the need for clubfoot awareness and early intervention. I asked him a tough question: when there are so many common lethal illnesses and conditions that exist in the world, why focus on a condition that isn't deadly or more common? He paused, then answered slowly and deliberately. "It's about the window of opportunity." Illnesses are often long and protracted, he said, and treatment isn't guaranteed even with the best care. With clubfoot, though, there's a distinct window of opportunity for children in which the treatment will, in almost all cases, be successful. "When my neighbor goes to bed hungry, I can't sleep," he said, "and eradicating clubfoot is giving a child the rest of his life back. I can sleep doing this." He beamed as he told us of his vacations from the hospital, in which he literally packs up his car with medical instruments and drives to remote areas on the lookout for untreated clubfoot. "It's my hobby," he admits, "I just love treating clubfoot." In all, Dr. Moh gave us a fantastic interview and we were honored to meet him.
The following morning (Jan. 16) we were, yet again, back on the road to visit patients in their homes. We began with a tumultous interview in the commericial area of Sunyani. While we interviewed the mother of a little girl with multiple health conditions, clubfoot being just one, we faced issues of noise, of vague answers and a generally problematic setup. However, we did catch one moment of emotion that took us by surprise. "When my child was born, I saw that she had this problem with her feet and I just wished that she had died," the mother said, shocking our team. She now regrets that statement, she softly noted. "Thinking those thoughts is one of my biggest regrets because, looking at her walk now, I am so happy to have her." Just as soon as this emotional door was opened, it was promptly closed, and we struggled to get her to open up again.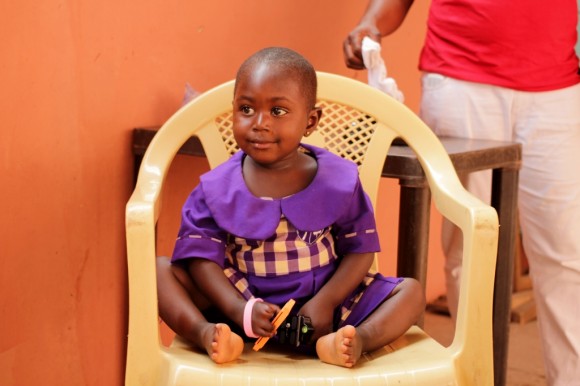 Our next interview was in the home of Justice and Joyce, a forester and a beautician. They are a little more financially secure than some of the people we've interviewed and it's clear that they've spared no effort in ensuring their child is treated adequately. As Hannah, Oti, and Jerry took on the difficult task of keeping the child happy, calm, and quiet outside, I asked Justice about his relationship with his firstborn daughter, over whom he is clearly protective. "Well, I wanted a girl from the beginning and I just felt like I won the jackpot," he said, his face lighting up. "When we saw the condition, I knew about clubfoot and that it was treatable. I also knew, though, that even if there hadn't been a treatment I wouldn't stop until there was one for my daughter." Joyce, who doesn't speak much English, asked her husband to translate her sentiments. "Clubfoot or not, having my daughter was the happiest day of my life," she said.
On the road again, we made our final stop at a schoolyard outside of town. Bustling with students and teachers alike, we stuck out like sore (white) thumbs and we turned playing in the yard into a spectator sport. We sat with three-year-old Selena and her family on benches outside a classroom building and as we asked questions to yet another set of caring parents, Hannah played a silent game of peek-a-boo with Selena. While Selena kept her distance and played it cool during our time with the family, as Hannah began to leave after our goodbyes, Selena began to sob. Hannah returned for one more hug, during which the crying ceased immediately – only to resume again as our taxi drove off. The end of our filming in Sunyani meant Oti's return to Dodowa. We said a tough goodbye (though we would see him again in a week) and he headed in the direction of Accra. We packed up our bags and prepared for our trip to Kumasi, where we would spend the weekend and the following week.
-Zach