On Tuesday January 21, Zach and I met up with Jerry in the morning to go and interview even more patients. He took us to a nearby home where we met a little baby boy named Junior, his adoring mother, Yaa, and his grandmother, Sarah. He not only has bilateral clubfoot, but also clubbed hands. All four of his appendages were casted. Junior looked up at us with awe as his proud grandmother, regardless of his plastered hands and feet, showed her grandson off to her guests. We immediately made a connection with both Junior's mother and grandmother. Unfortunately, it took us a while to get our equipment set up. As soon as we started the first question, "What is your name?" we realized we ran out of space on our audio recorder and had to reformat a new SD card so we could capture the mother's story. Fortunately, Junior's family was incredibly patient and didn't mind waiting for us to get these technical issues sorted out.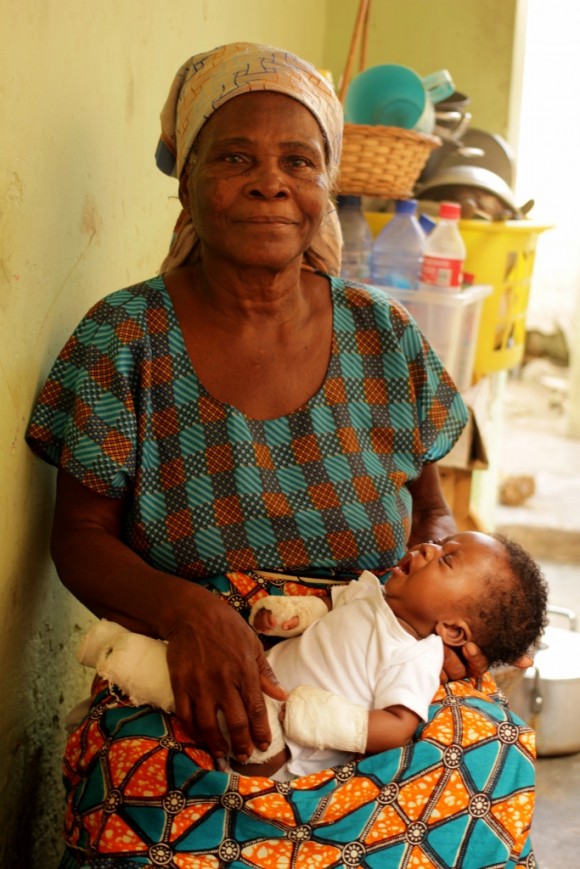 After at least 30 minutes, we were ready to start our interview with Yaa. Zach and I were glad we made the extra effort to make sure our equipment was set up properly because talking with Junior's mother was extremely insightful. We talked to her for over two hours. Yaa freely expressed some of the struggles she's experienced in a way that, even though her child is just within the first few weeks of treatment, made us feel like the worst is already over. She told us that she was positive that her husband would have left her if there were no affordable treatment for her child. Yaa's husband has blamed her for their son's condition. As we have often heard throughout our travels, mothers tend to internalize this external blame and feel guilty for "causing their child's clubfoot." Yaa was no different. She told us that she changed as a person in the first couple of weeks after her child was born. She went from a positive person, to one who was negative and easily angered. Not only was she a new mother, experiencing the struggles of having to take care of a new baby, she was worried that her child may never have a future as an independent adult, that she, herself, may never have a future with her husband, and that she was to blame for all of this. I think that any of these challenges alone are enough to bring a person down, not to mention all of them at once.
However, Yaa's beaming glow, which was so apparent during the interview, was contrary to the person she had just described. She told us that after talking with the counselor and other mothers at the first clinic, and then later seeing the physical changes in her child's body take place, she regained her hope. Furthermore, she was able to go back home and show her husband that their child was going to be fine. Her family is not only still intact, but she said that all of her relationships have been strengthened. It was clear that there was a strong bond between her and her mother (Sarah), but Yaa said that having her mother to share the high's and low's of the treatment process has increased their love for each other and for Junior by "one thousand fold."
As we were concluding our interview, the two matriarchs asked how much the treatment would cost. Jerry explained that CURE provides free treatment. Yaa and her mother were overjoyed. They said that Yaa's husband was currently out working just so they could make sure they would have enough money when the bills came. We semi-joked with Yaa that she shouldn't tell him the treatment is free until later – to get back at him for threatening to split up the family when Junior was born. I think Yaa and her mother really liked this plan. After exchanging a few more "jokes" about how I was going to take Junior back to the US with me when he gets older and how I am going to send the grandmother my used clothes so she can sell them in the market, we were on our way.
It was about noon by the time we got into a taxi, so Jerry said we would stop and get some lunch up the street. We stopped at an unassuming building that looked like a tiny bar from the front. Jerry walked us through the bar and took us out to the back patio area. Here there were three men pounding fufu (a playdough-like ball of yam and plantain) and large vats of different types of stews, meats, banku (fermented corn dough balls), and omotuo (sticky rice balls). Jerry, Zach, and I are all partial to omotuo with groundnut (peanut) soup, so we all sat down with big clay pots filled with this delicious food. It was so flavorful and tasty – like melted peanut butter. As groundnut soup connoisseurs , the three of us decided it was of the best we'd ever had. Jerry informed us that people travel great distances to come to this restaurant, "Effe Fufu," because it has a homemade atmosphere and taste. Zach and I left the restaurant feeling more than satisfied.
Our second, and last patient of the day (since our first interview was so extensive), was a one-year-old boy who was not only afraid of us 'obruni' strangers, but even more terrified of Jerry's height. His shrieks of fear were so contagious that his older cousin immediately started crying when he saw us. Since all three of our presences were clearly needed for the interview to take place, and high pitched, panicked crying isn't conducive for a documentary audience, I started wracking my brain for a way to calm the children down. My usual solutions for these situations, like peek-a-boo and giving out wrist bands were not working. Time to innovate. What is one thing which most children love that they cannot cry and enjoy at the same time? Lollipops. I rushed to the nearest stand and bought their entire stock. In no time, Zach and I achieved our peace and quiet and started our interview with the patient's mother, Angelina.
Angelina told us that her son started the Ponseti Method late. He just begun treatment just a few weeks ago. After Angelina gave birth to her son, a doctor (inaccurately) told her that the clubfoot could be corrected, but that he wouldn't be able to start treatment for a few years until he was older. Angelina didn't want to wait that long. As far as she knew, modern medicine had no immediate solution, so she decided to pursue traditional medicine. Over the course of the last year, she brought her son to the traditional doctor in hopes of curing the clubfoot, but the attempt was unsuccessful. She stopped that traditional treatment practice when she realized it was just costing her family time and money, without any progress.
Luckily, Angelina found out about the Komfo Anyoke clubfoot clinic and the free treatment. She brought her little boy there, where he is now receiving treatment. Our interview with Angelina also revealed something else though that isn't as much important to our documentary, but important for her son's future. She told us that the technicians had casted him only once, before putting him into the boots and bars. At this point, we've seen enough cases to know that unless its an incredibly mild case in a newborn, only one cast isn't enough. We expressed our concerns to her, and concluded that because her child is older and his feet looked so improved after his first casting, that there was probably some mix-up. The technicians likely assumed he was further along in treatment than he actually was. Jerry immediately contacted the hospital on this matter to see if things could get sorted out.
Around the time the interview finished, school was letting out, and children flooded the community in which we were. I gave away the last of the lollipops and took some pictures of a gang of boys, including Angelina's other son. Soon, the group of young boys had come into Angelina's drink shop and were around Zach and Jerry dancing to Gangnam Style. It was funny to see lanky Jerry and 'obruni' Zach dancing with the incredibly coordinated Ghanaian children. When the excitement died down, we said our temporary goodbyes to Angelina's family, because we would see them the next day at the Komfo Anokye clubfoot clinic.
The next day Jerry took us took us to the Komfo Anokye Teaching Hospital, one of Ghana's largest hospital complex's. Its also home to Ghana's largest clubfoot clinic. When we arrived at the Physio department, the technicians were busy preparing for the large load of crying babies they were about to receive. Zach volunteered to help them out, to which they responded by handing us knives and rolls of plaster to be cut into baby-sized pieces. Although this went beyond the scope of our documentary making, we were glad to help out in a small, but tangible way.
A short while later, after talking to the Department Head about his ambitions for further developing the clubfoot clinic, the babies started to pile in for casting. A young female doctor pulled out a laptop and started conducting a presentation on the Ponseti method for the audience of mothers (and a few fathers). We were told that she was a volunteer that helps out with some of the counseling from time to time and that her presence has been invaluable for keeping mothers calm and patients treated.
After the presentation, we followed the first few patients into the casting room, which actually was a large multi-purpose, physical therapy room. But for this amount of children, a small exam room just wouldn't do. We watched as patients were called over and placed on a large table, not one at a time, but all at once. In the middle of the table was the plaster and padding, and on the edges were the patients. It was quite a sight. It was a plaster party, if only the music could be something other than the sound of screaming children. At full speed, there were five children all being casted on the same table, each with their own team of casting technicians.
At one point I heard a familiar panicked cry, and looked over to see that Angelina's son was being casted. I don't think I've ever been so happy to see a child cry so hard. I was glad that he was finally getting the consistent care that he needed. I also made a point to spend some time with Junior and Yaa. Yaa was unfased by her son's cries on the table, not because she is callous, but because she displayed a confidence that she no longer worried about Junior's future.
When our ears had reached their limit, and we could no longer handle the orchestra of screaming infants, Zach and I settled in the waiting area and talked to the counselor, Emmanuel. He told us that prevention is one of his passions, whether it's Hepatitis B or a lifetime of disability. We hadn't yet gotten an interview with a counselor yet, so we asked if he wouldn't mind being interviewed. Clearly a very humble man, he immediately called the young doctor from earlier in the morning over and introduced us. Her name is Abby and she's a resident at Komfo Anyoke. She spends hours each week at the clubfoot clinic, checking children for other conditions, as well as consoling mothers' worries. Emmanuel insisted that he be interviewed with Abby, a suggestion we welcomed.
Because Emmanuel and Abby are intimately involved with clubfoot, but aren't actually experiencing the treatment directly, their perspectives proved to be incredibly unique. They understood, unlike many of the mother's we interview, that viewers (of our film) at home have never been to Africa and may not understand why being disabled in Ghana is so problematic. Abby outlined the life of a Ghanaian child with neglected clubfoot with an incredible level of detail. She talked about how in a family with limited income, the few resources available often are focused on able-bodied children, and that the child with clubfoot is neglected in more ways than one. Emmanuel said that clubfoot treatment changes a child's position in the family from being a "liability" to being an "asset." Essentially, he was saying that such children will no longer be costly, but can be productive, contributing citizens to Ghanaian society. Together, I am sure Abby and Emmanuel will have a place in the final film. Their interview was unforgettable.
Zach, Jerry, and I ended the day early and headed back after lunch to the hotel to catch up on some work. The next day we went to St. Michael's hospital outside of Kumasi for their clubfoot clinic. When we arrived, we were scared that our plans had fallen through. The clinic is much smaller than the one at Komfo Anokye, so small that usually it's scheduled for the afternoon. However, we finally found the clinic, which had been rescheduled for the morning for us to film. When we walked in, we just saw a few mothers lined up with their babies. There wasn't even a casting room for the clinic, so a table was set up in the hall. One mother in the line stuck out to us, though. She had a constant smile on her face. Even when she wasn't smiling with her mouth, you could see it in her eyes.
Joseph arrived at the clinic a few minutes after Jerry, Zach, and I. He was there to perform the casting and evaluations for the day. He pointed to the mother with the beautiful smile, and said "Both she and her child have clubfoot. Her's is neglected, but her child is receiving treatment." She saw Joseph point over to us, and she lifted her skirt off the ground a few inches to reveal her foot, twisted 180-degrees from the natural direction. We were shocked. If Zach and I were told to guess which out of the ladies in the waiting area had neglected clubfoot, I am sure she would have been our last choice. Not just because her foot was hidden behind her long skirt, but because her foot was concealed by the most genuine smile.
It didn't take us long to realize why she was smiling. While most observers might wonder how having a lifetime of both physical and emotional pain can lead to such optimism, Georgina doesn't see her condition as a reason to be pitied. Additionally, the amount of joy she feels is palpable when she sees that her son, Edward, won't have to struggle like she has (although she doesn't even describe any moment of her life as a struggle). As you can probably tell, she took priority over our clinic visit, and we made sure to find a quiet place in the hospital to sit her down for an interview.
It was difficult to get Georgina to tell us about times she felt upset about her condition, not because she is embarrassed, but because she doesn't think about her life or her foot in that manner. She seems truly thankful for all that she does have, and doesn't seem to dwell on anything that isn't perfect. We asked her if she ever stops smiling, and she said "Never, because there is always something that makes me happy." Georgina is truly an inspiration individual.
In between optimistic statements, we were able to unearth the harder parts of Georgina's story. She didn't realize she was different until she was in school. As a young girl, her peers didn't seem to notice or care about her foot. At school, when she was about ten years old, though, her classmates started picking on her and bullying her for her clubfoot. She went home and asked her parents how her foot could be fixed, but they responded that they didn't have the money. Because of this, and the long treacherous walk, she stopped going to school. Georgina said that failure to finish school and the limitations clubfoot has on mobility, have really constrained her job opportunities. She makes money now by selling chilled water outside of a school. Although she seems proud of her independence, I don't think it's an occupation she would ever wish for little Edward.
The last part of our interview with Georgina was centered more around her son. Her grandmother was the first to notice Edward's clubfoot, remarking that his feet looked the same as Georgina's foot had looked when she was born. Georgina was crushed when she first found out about her child's condition. She said that it was the happiest day of her life when she heard that Edward's foot could be corrected, although she admitted that, at points, she's felt conflicted because she wishes it were available when she had been born. But because she knows what can happen if the foot doesn't get fully treated, she is truly dedicated to every step of the process. I am sure Edward's feet will be straighter than my non-clubfoot feet – that's how determined Georgina is about getting the best care for her child. I have no doubt that Edward will have an incredible future with such a devoted, positive, and passionate mother.
Zach and I felt honored that Georgina took the time to speak with us. We always appreciate when parents and patients open up to us, but it takes a great amount of courage to talk about personal hardships in a country where disability is still not fully understood by the public. Over a week later, I still cannot find the right words to describe how grateful I feel to be the one to share her story and her perspective with the world.
Our time investigating clubfoot in Kumasi ended with Georgina. We shared goodbyes and went our own separate ways. Zach and I packed up our gear and headed back to our hotel. We spent the afternoon preparing for Friday, a long drive back to Dodowa (and also my birthday). We wrapped up our time in Kumasi having dinner with Jerry and his wife, Jemima. We were so glad to meet the woman from who we've stolen Jerry for such a long time!
-Hannah