After a breakfast of granola bars, we hopped in Rebeca's truck at 6 a.m. and drove for about two hours until we reached León, where a small teaching hospital provides not only care for children with clubfoot, but where young physicians can learn the Ponseti Method in the field.
When we arrived, we joined a group of about six or seven students who watched and took notes as the lead doctor began to cast clubfoot patients one-by-one. We hovered around and tried to stay out of the way as we collected footage of the scene, which was crowded and a bit tough to navigate. During our time in the clinic, we saw two children casted – both with very young mothers.
What we found was that the younger mothers, those closer to our own age and more likely to be connected online, had done fairly extensive research on clubfoot and were very much informed about the Ponseti Method. One of the father's that I chatted with asked me if I had surgery on my feet, to which I responded that I had. He asked which one, wanting to know details. I was surprised, as the phrase 'surgery' often suffices when the questioner doesn't know the differences between treatments. This young dad, who couldn't have been much older than I am, was quickly becoming a clubfoot expert. The most surprising thing I found about these young couples was their sense of calm. Armed with the information they needed to treat their child and confident in the method they were choosing for that treatment seemed to give them a deep sense of peace with the situation. It will be hard for them, I'm sure, to make it through the whole process of treatment – but I'm optimistic about their commitment to getting the treatment and being secure in their understanding of the necessary steps.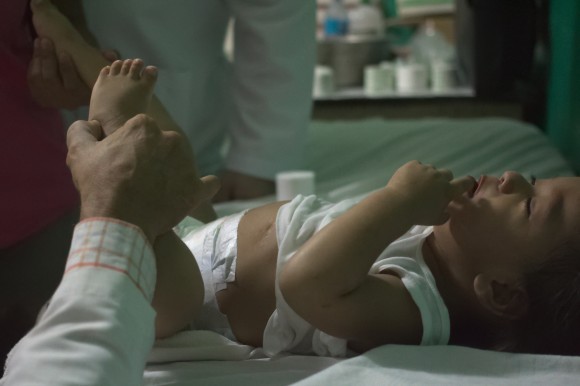 After the clinic concluded, we began our trek back to Managua, stopping on the way for *quesillios*, a combination of cheese sauce, semi-grilled onions, and a thicker slab of white cheese all wrapped up in a tortilla. It was interesting, to say the least. The flavor was fairly bland, but pleasant, though the consistency was so varied that it was hard to get a real feel for the dish. We mulled over ideas of how to spend the rest of our afternoon, but it didn't matter: we passed out the minute we reached the hotel and slept until dinner.
Walking down the street to find a restaurant wasn't difficult in Managua (at least where we were) because the sidewalks were lined with enormous signs every which-way, directing us to Italian places, French places, and even Indian food. We chose a Latin fusion place because – after all – we didn't come to Nicaragua for spaghetti and meatballs. We tried a few dishes, ranging from various chicken dishes to ceviche (which was fresh and delicious). It was all wonderful. We spent the rest of our evening by the pool chatting with Leslie, though I ended up being the only one to hop in the water. We made our way to the rooms as it got late, packing up the bags for another day of filming.
We got a bit of a reprieve from our early wakeup time the next morning, having to be ready to roll at 8 a.m. to head out to our first interview. We drove into a gated community (complete with guards bearing pump-action shotguns) where we sat down with a mother of two whose youngest child, a little boy with an incurable case of the giggles, was born with clubfoot. As I spoke with the mother, the boy kept leaping out of her lap and running to Hannah, where they would play and crawl around on the floor together. The mother spoke about how hard it was to explain to her friends and family that she didn't cause the clubfoot herself: many people blamed her for her son's condition. She talked about the issues the braces cause, and she spoke with us about how it's difficult to put the children to bed at night because of the night-time boots and bars. Her little boy, though, has been religiously kept in his braces and is on his way to corrected feet.
Next up was an outdoor interview in a small village in Managua just a block off the beaten path. Another young mother, this time talking about an older child (around three or four years old), told us how she felt when she first saw her child's feet. "It was the worst moment of my life," she said. "I didn't know what to do or say … I just knew they were wrong." Her dreams for her son's future have since become more attainable, she said, now that her son is steadily being treated. She spoke with excitement about how he will grow up 'normally' and be a functioning member of Nicaraguan society. Meanwhile, as we spoke, Hannah spent her time filming the little boy, who had been corralled into a small hut by his grandmother. She filmed him through his screen door and he smiled at her quite a bit. He was particularly playful!
Our next interview was especially intense, making it a standout amongst the interviews we've taken recently. A large majority of the interview was fairly straight-forward. Her comments, about the pain of social stigma and the difficulty in explaining her son's condition to others, echoed those that we've heard so many times before. I had asked her about her family's reaction to her son's condition and she had initially brushed off the question by saying that everything was fine. I was stunned, though, at the end of our interview when she mentioned in passing that her husband had left her eight months after she had given birth. I stopped her there and asked her if this was related to her son's medical condition. "I believe he left because of the clubfoot," she told me, beginning to crack and finally open up fully, "and he didn't want to deal with it."
Where I had been seconds away from packing up the camera and moving on, we were now continuing on this new topic and she tearfully recounted the challenges she faced in the aftermath of her abandonment. She now lives in her former mother-in-law's home, where she cleans the house twice a week and cleans other homes in the neighborhood as her occupation. She didn't fully explore the issue, but she hinted that she wasn't welcome in the home every day, allowed to stay only at certain times. It was unclear where else she might live. She said that her former mother-in-law still has a difficult relationship with her – that the child is the only reason the contact still exists. She is still blamed for the condition and is stigmatized on a daily basis. Her story was heartbreaking. Both Hannah and I were taken aback and touched deeply. When we packed up, I wondered what would become of her family, her adorable little boy, and the husband who has thrown away much more than he might realize. We quietly packed up our gear and hopped in the back of Rebeca's truck, scooting off to lunch on our way to Grenada.
About an hour after a quick lunch of more American-style food with some rice and beans, we reached a small dirt road in Grenada, finding ourselves in a small house adjacent to a local high school. Only a few minutes into our interview with the mother of a clubfoot patient, the area was dominated by pounding electronic music and excited shouting. We had chosen teacher appreciation day to set up outside the high school – and, in all, we'd hear a dance party, a marching band, and megaphone announcements throughout the entire interview. Luckily, our audio of the exchange is still usable and it shouldn't affect the footage. That said, it was still distracting and definitely kept the mood of the interview light enough that – while we did build rapport – we never hit the somber notes that usually accompany stories of challenge. The interview was still quite good and we came away with some useful footage.
Having returned to Managua, we had one interview left to conduct before we packed for an early flight in the morning: the amazing Rebeca, Miraclefeet's Nicaragua Country Coordinator. We sat next to the pool at our hotel and filmed until the sun went down. Her answers to our questions were superb and she really nailed the entire exchange. When I asked her why clubfoot awareness was important, she spoke about the need for individuals to act as advocates for positive healthcare on behalf of their neighbors. Clubfoot awareness, she posited, allows mothers to help mothers. And clubfoot organizations, she added, allow everyone to join in that help.
We said a final goodbye to Julio, our translator, before heading back to prepare for dinner. We met by a neat harbor in Managua covered in restaurants, sitting down for a steak dinner with Rebeca and her boyfriend and Katherine, her husband, and her son, little Jean. Dinner was fantastic and it was great to enjoy it with new friends, despite the language barrier that was embarrassing to try and overcome. Speaking Spanish, sadly, is not my strongest skill. Before we left, and said a sincere goodbye to the Nicaraguan team, Hannah received a kiss on the cheek from Jean, who, by the end of dinner, had covered himself in rice. We rode back to the hotel and prepared for what would be around ten hours of travel the next day. We were tired, happy, and had a deeper understanding of the way that clubfoot is being treated in Nicaragua. That, to be sure, was worth the whole trip.
-Zach